The Town of Jingde is known as the "Porcelain Capital" because it has been producing pottery for 1,700 years.
Chinese ceramic ware shows a continuous development since the pre-dynastic periods, and is one of the most significant forms of Chinese art. China is richly endowed with the raw materials needed for making ceramics. The first types of ceramics were made during the Palaeolithic era, and in later periods range from construction materials such as bricks and tiles, to hand-built pottery vessels fired in bonfires or kilns, to the sophisticated Chinese porcelain wares made for the imperial court. Most later Chinese ceramics, even of the finest quality, were made on an industrial scale, thus very few individual potters or painters are known. Many of the most renowned workshops were owned by or reserved for the Emperor, and large quantities of ceramics were exported as diplomatic gifts or for trade from an early date.
Jingdezhen's porcelain has been famous not only in China but in time it became known internationally for being "as thin as paper, as white as jade, as bright as a mirror, and as sound as a bell". The late Guo Moruo, a senior official who was also a famous historian and scholar of PRC wrote a poem that says (in translation): "China is well known in the world for its porcelain, and Jingdezhen is the most well-known centre, with the highest quality porcelain in China".
Jingdezhen's natural resources include kaolin, coal, manganese, and lime, but it is the kaolin that has made the city famous in China and the world. For over a millennium, its unique kaolin has enabled Jingdezhen to make high-quality porcelain.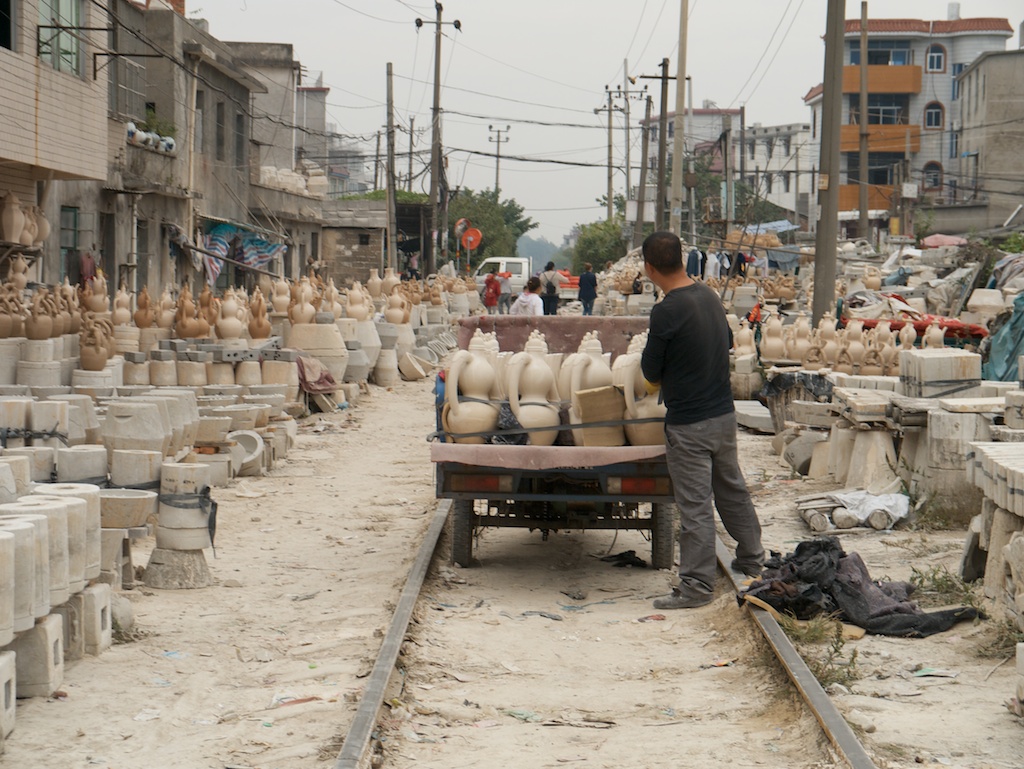 Kaolin is a clay mineral, part of the group of industrial minerals, with the chemical composition Al2Si2O5(OH)4. It is a layered silicate mineral, with one tetrahedral sheet of silica (SiO4) linked through oxygen atoms to one octahedral sheet of alumina (AlO6) octahedra.[6] Rocks that are rich in kaolinite are known as kaolin or china clay.
Wikimedia